PERIODIC TABLE DISPLAY WITH REAL ELEMENTS
$89.95
$139.90
SAVE $49.95
Be one of the handful people on earth to possess all stable elements of the UNIVERSE in your office or in your classroom
A RARE COLLECTIBLE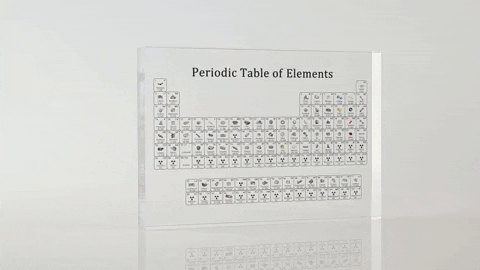 ✔️The table display is an astonishing collection of 83 REAL samples making up our universe
✔️Irreplaceable gift for chemistry lovers and sophisticated collectors
✔️It amazes your colleagues, friends, and family every time they look at the 83 fascinating elements
✔️Gold, Silver, Platinum, Uranium, All noble gases, Rare earth metals
✔️Our novel process makes all included elements safe to store and handle
AN EXQUISITE DISPLAY
Great for display on desks and shelves. It is ideal for home, office, or school class decoration. Perfect gift for students, teachers, and professionals.
A PROFESSIONAL TOOL
Specially designed for students, teachers, and also for professionals in various engineering and scientific industries. It is ideal for teaching and inspiring.
About the Product:
83 REAL elements!

Safe, Crystal Clear and Beautiful Display

Weight: 0.500 

kg
Dimensions: 11.3cm x 15.0cm x 2.0cm
Did you know that this year is the 150th anniversary since the discovery of the periodic element system by Dmitri Mendeleev? To celebrate this historic event, we are thrilled to bring the elements of the world to you!